The Gardens were created by Maria 'Laetitia' Kempe Homeyard in the late 1920's and early 1930's, and were built by Thomas Rider of Southwark, London and the designer William Sears. They were constructed on a steeply sloping patchwork of fields above the picturesque village of Shaldon. Mrs. Homeyard was the widow of William Newcombe Homeyard, the wealthy inventor and manufacturer of Liqufruta cough syrup. The garden she created is an informal terraced arboretum with a level walk along the top. Improvement work continued until 1939.
After Mrs Homeyards death in 1944 the land in her estate was auctioned with the Gardens being purchased by Teignmouth Urban District Council in 1951. They were opened to the public in 1955 .
Recently after several years of research and commitment from the Friends of Homeyards and Teignbridge District Council £317,000 funding was received from the Heritage Lottery Fund and £40,000 from Viridor Credits Environment Company. The grants paid for repairs to the Italian Garden ,restoration of the castle, reinstatement of the roof, windows and doors, creation of a small kitchenette and toilet with disabled access.
Saturday 2nd July 5pm-11pm Bands in the Botanical Gardens in aid of Homeyards and the DEC Ukraine appeal. Featuring Ollie Stephens, Borderline, Shoreside, Juice. Family ticket £25, adult £10, child £5 from Bradleys, Shaldon Post Office & lollie bean.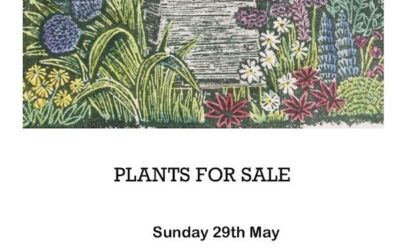 Plant Sale in aid of Homeyards - Sunday 29th May 10-4 on Shaldon Green.
Wednesday 18th May - Devon Gardens Trust visit the gardens A pleasant afternoon was spent when the Friends had a visit from members of the Devon Gardens Trust. An interesting talk and tour were given by Lisa assisted by Adrian. Tea and cake were served in Mrs...
What do you do with a Liqufruta fortune? Well, Maria Homeyard completely transformed the village of Shaldon during the 1920's and 30's. Not only did she build herself a 'pleasure garden' but she had many of the surrounding 'Arts and Craft' style houses built. This 70 page A5 book includes historic photographs, revealing documents and other illustrations. The strange title – it refers to Mr Homeyard's gravestone which can be seen at St Nicholas' churchyard . . . try spelling Liqufruta backwards.
All funds raised from sale of the book go to the Friends. It's available for sale at the Castle for £2.50 and by mail from Friends, 12 Dagmar Street, Shaldon, Devon TQ14 0DU on receipt of a cheque for £6.50 made out to Friends of Homeyards Botanical Gardens in Shaldon.